That Greenhill Gardens should be well used, well loved, and a source of civic pride for Weymouth. That the planting, and the buildings in the gardens should be of the highest quality.  Long may it be a beacon of excellence.
Green Flag Awards recognise and reward the best parks in the country and Greenhill Gardens stood out after impressing the judges with their excellent use of green space, well-maintained facilities and high standard of safety and security. Only green spaces that are free to enter and open to the public are eligible to win an award through the scheme, which is run by environmental charities Keep Britain Tidy, BTCV and GreenSpace.
First awarded a Green Flag in 2009, Greenhill Gardens has been a regular winner ever since.
The Ken Isaacs Rose Bowl is awarded every year by the Mayor of Weymouth Town Council in appreciation of Borough projects. In May 2023 it was awarded by Mayor Ann Weaving to FOGG.
Ken Isaacs was the Mayor's chauffeur and Mace Bearer for 14 years.
The Blue Flag is only awarded to coastal destinations that boast the highest quality of water, facilities, safety, environmental education and management.
Greenhill Beach is an extension of the Weymouth central beach and is a mix of pebbles and sand.
Lifeguards are on the beach daily from 8 July to 3 September between 10am and 6pm
In 1872, Sir Frederick Johnstone, MP for Weymouth and racehorse owner, laid out Greenhill Gardens for the people of Weymouth.  In 1902, he gifted the gardens to the town. Two years later he sold additional land where the tennis courts and bowling green now stand.  The extended gardens were opened in 1906.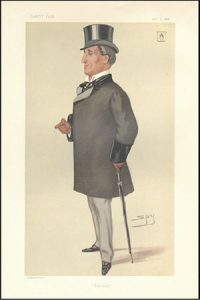 Sir Frederick Johnstone: caricature by Spy published in Vanity Fair 1878 (Wiki Commons, public domain)
Development of the gardens
The postcard above shows the gardens in the early 1900s.  The pathways have remained much the same, but the hedges have been replaced by colourful flowerbeds. New features have been added over the years
Weymouth Town Council (WTC) retain the ownership of all of Greenhill Gardens, and WTC continue to manage the grass and planted areas nearest to the town, and to maintain the key buildings within.  FOGG works with WTC for the enhancement of this area.
Over time the management of various areas has been ben outsourced.
Find out ways you can help